Wow what a terrible play on words, eh? Please don't let it sway your opinion as you read this blog post. Now I know we've got a few male readers (and when I say a few I literally mean like...3 or 4 -- hey guys!!) so obviously we can't completely ignore the female counterpart when it comes to topics on our blog. And let's be real here, guys, sorry but you can't throw on a hoodie every morning for the rest of your life! Eventually, as you mature, your wardrobe will have to as well. But have no fear! I am here to help.
These crisp fall months offer the perfect weather for guys to showcase some of the gorgeous sweaters designers make for men. I'm not gonna lie...I'm a little bit jealous of men's sweaters and if my boyfriend owned any of the ones below, I would without a doubt steal them for my own use.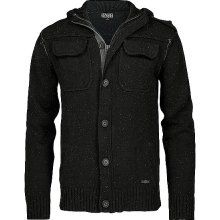 [I'm loving the large buttons and dark grey color of this sweater. So cozy!]
[Here we see one of this year's biggest trends - ombre...but for men this time!]
[The classic cable knit sweater - with those
elbow patches
that I'm so fond of.]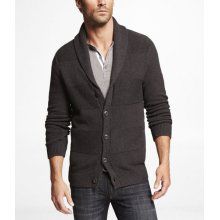 [I'm loving how the different knit patterns in this sweater create a stripe effect, and that collar! I die.]
So, all you men readers out there - how'd I do? Do you like the sweaters I chose? Or am I totally off the mark here?
And ladies, would you like to see any of these sweaters on any of the men in your life?