I'm in dire need of a hair appointment. My roots are growing out (Oh, you thought this blonde was natural? You flatter me) and though I've tried to pretend it looks like ombre I've purposely put atop my head, it's about time I stop kidding myself.
The reasons for my hesitation in booking this appointment are plentiful. Let's start with the fact that I consider my hair to be important (duh) and going to an Italian hairstylist without complete fluency and ability to be 100% precise in what I'd like to have done is a scary thought. Add in the indecision factor that results in not being completely sure of what I'd like to do in the first place and you've got the perfect equation for procrastination.
I've been tossing a few ideas around. Do I continue with blonde highlights, thus complying to the saying "don't fix what isn't broken"? Do I throw in some low lights so as to ease back into my natural color? Or do I go to the extreme and dye my hair back to it's natural state in one shot? Okay, let's be honest, that last one isn't likely.
Whenever I get an urge for a change in hairstyle, I play around with a little makeover program
online to get a feel for what it might look like.
Start by taking a nice, forward-facing picture of yourself:
Pick out a celebrity hairstyle. If you're doing this seriously, you'll probably want to pick someone who has a similar face shape and hair type as you do. My hair is super straight, but I started off with a Hayden Panettiere hairstyle since we both have heart shape faces.
Play with hair colors, highlights and lowlights.
This Emma Stone hairstyle below seriously looks like my high school
senior
picture except not brunette. I tried to make the first photo as close to my typical daily hair as possible and then added in subtle low lights in the second. I promise there's a difference.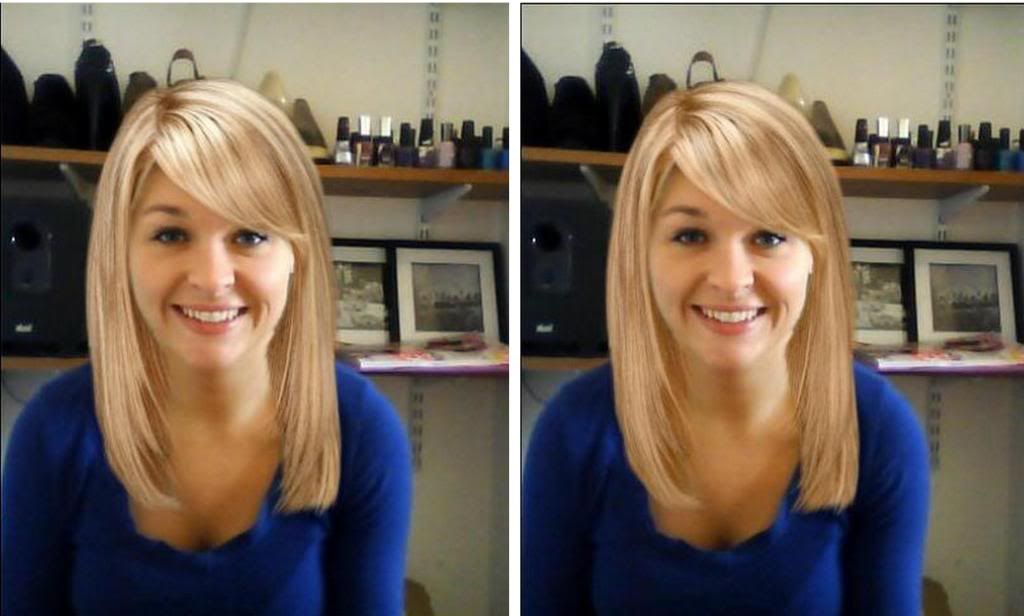 There's also the option to play around with makeup or go crazy with the "mix it up" button, which will change around your hair and makeup with the click of a button.
Ultimately, I'm trying to decide between these two. Thoughts?
Last, but definitely not least, you'll want to play around with your friends' faces. Thus, without further ado, I present to you my best friend! Hey Cor hey!
What do you do when you get an urge for a change in hairstyle? Do you have any particular techniques for figuring out if it'll work for you before going to the stylist?